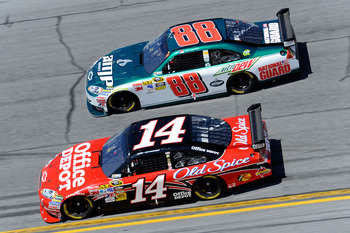 1)

NASCAR returns this week with their biggest race of the season, the Daytona 500.

Last year the championship was won on a tie-breaker and last weekend's Budweiser Shootout has the smallest margin of victory ever (.013 seconds).

Are you going to watch the 500?

If not what would it take to get you to watch?

If you are going to watch who is your pick to win it?
Matt – I'll watch the start and the end and some of the middle with the boy.

Also will be making bbq ribs!

It's become kind of a tradition on Daytona 500 day to make ribs.

I'm going to go with my pick every year till he wins it….TONY STEWART
Painter – Of course I'll be watching, it's one of those sporting events I will never miss.

Kyle Busch had a great car in the Shootout as did the Hendrick drivers (until they got caught up in wrecks).

The return of pack drafting puts the race back into the drivers' hands more than the tandem racing of the past couple of years.

I want Dale Earnhardt, Jr to win very badly but I have a feeling Busch will pull it off.
Blake –

As with most sports key events, I at least try to watch the finish. The NBA All Star Game is this weekend too. That being said, I could care less who wins Daytona
BSox – I think i will try and watch it. i can't promise i'll watch it from start to finish, but i'll dive in there at some point. really though, of all the sports that have rebranded over the many years, nascar has turned into something fun to watch.
2)

Pitchers and catchers are reporting, the Sports Illustrated Swimsuit Issue has been released, March Madness is approaching.

What are some of the other signs that spring is approaching?
Matt – There is mud in my yard and dog shit that needs picked up from the winter….that's the biggest sign…the ones I'm looking forward to are March Madness and Golfing
Painter – The Swimsuit Issue and commercials for the Masters are the biggest signs for me
Blake –

A distinct and strong urge to drink on a patio?
BSox – girls wearing short dresses. serious, go to a college campus, you can get entertained all day.
3)

Spring in Iowa means more opportunities to get outside and enjoy different activities.

What outdoor activities are you most looking forward to?
Matt – I can't wait to hit some golf balls and softballs!
Painter – I'm really ready to get out on the lake and catch some fish.

I didn't get to go out very much last year and I've been ready to go for a while.

I'm also going to my first LAZERfest this year.

That should be a blast.
Blake –

See #2. Oh, and getting to an I-Cubs game this year that doesn't get rained out
BSox – lazerfest lol, sorry shameless plug. more details @ lazer1033.com ;-)
4)

Greg Oden's knees continue to keep him off the NBA court.

Will he ever be able to play effectively in the NBA?
Matt – Does Columbus have a DLeague team?

He's done in the big leagues unless he get's a bionic knee.
Painter – I really don't think he'll play again.

I don't know if staying in college would have benefited him, other than getting his education, but at least now he's getting paid to sit on the sidelines.
Blake –

Grant Hill had a similar start to his career with his feet and ankles. He ultimately came all the way back, and has had a solid, and long career. That being said, Oden is a 7 footer, so it's probably a little less likely that he comes back, as their bodies break down faster. I wouldn't count him out yet though. I'd say his odds of playing significant time at any point in future are about 33%
BSox – He might get picked up again, but who is going to spend top dollar on a broken down used car?
5)

Kirk Ferentz named his son Brian as the Offensive Line coach and former player LeVar Woods as the Linebackers coach before heading out of the country on his annual cruise.

All we have left is Offensive Coordinator and Quarterbacks coach.

Are you surprised by these hires and who do you think will be the other hires?
Matt – I'd like to see Campbell get OC.

We all know that the offense won't really change though.

I think that Woods and his kid are decent hires.

I would be weary if Brian hadn't had any experience, but working with the Patriots last year I think that helps.
Painter – I'm not surprised at all and I think we're going to see Kirk's replacement being groomed (it will still be a Ferentz program).

I'd still like to see Eric Campbell get promoted to OC and I have a feeling that David Raih will be QB coach if that happens.

Otherwise I could see Chuck Long come in as the OC and QB coach.
Blake –

Yeah, I don't care. Sorry, I don't know anything about assistant coaches, other than when they suck or when the head coach sucks. They're kind of like back up quarterbacks that way.
BSox – A little by his son. The dude was with new england, why come to iowa? other than being with dad and such, you were with a pro team working your way up...i don't THINK he topped out there. but hell, maybe he just likes being close to family.
6)

Lent started this week.

What are you giving up this year?
Matt – I'm giving up not a damn thing!
Painter – Nothing.

A few years ago I gave up giving stuff up for Lent and I have stuck with it.
Blake –

Starbucks and any other schwanky coffee.
BSox – not catholic, and proly won't be giving up anything...except meat on fridays because my fiance is catholic.